(The English translation is a little further down)
Philipp Wittmann braucht man nicht mehr vorstellen. Seine trockenen Rieslinge sind inzwischen weltbekannt und überzeugen auch in schwierigen Jahren.
Viel ist über das trockene und warme Jahr 2022 geschrieben worden, nach dem Kühl-klasischen 2021 wieder ein "Klimawandel" Jahr. Eine gute Analyse lässt sich zum Beispiel im GG Sonderheft des Weinwissers finden. Umso neugieriger war ich darauf mir selbst ein Bild zu verschaffen auf diesen Riesling Jahrgang 2022 in Rheinhessen.
Ende Oktober war es soweit und ich war an einem Montag um 9 Uhr mit Philipp Wittmann auf seinem Weingut verabredet.
Um es gleich vorweg zu nehmen, ich war beeindruckt. Was für eine bärenstarke Kollektion! Man liest ja immer wieder, dass Riesling sein Terroir zeigen kann, hier tut er es wirklich. Echte Champions League.
Hier meine Verkostungsnotizen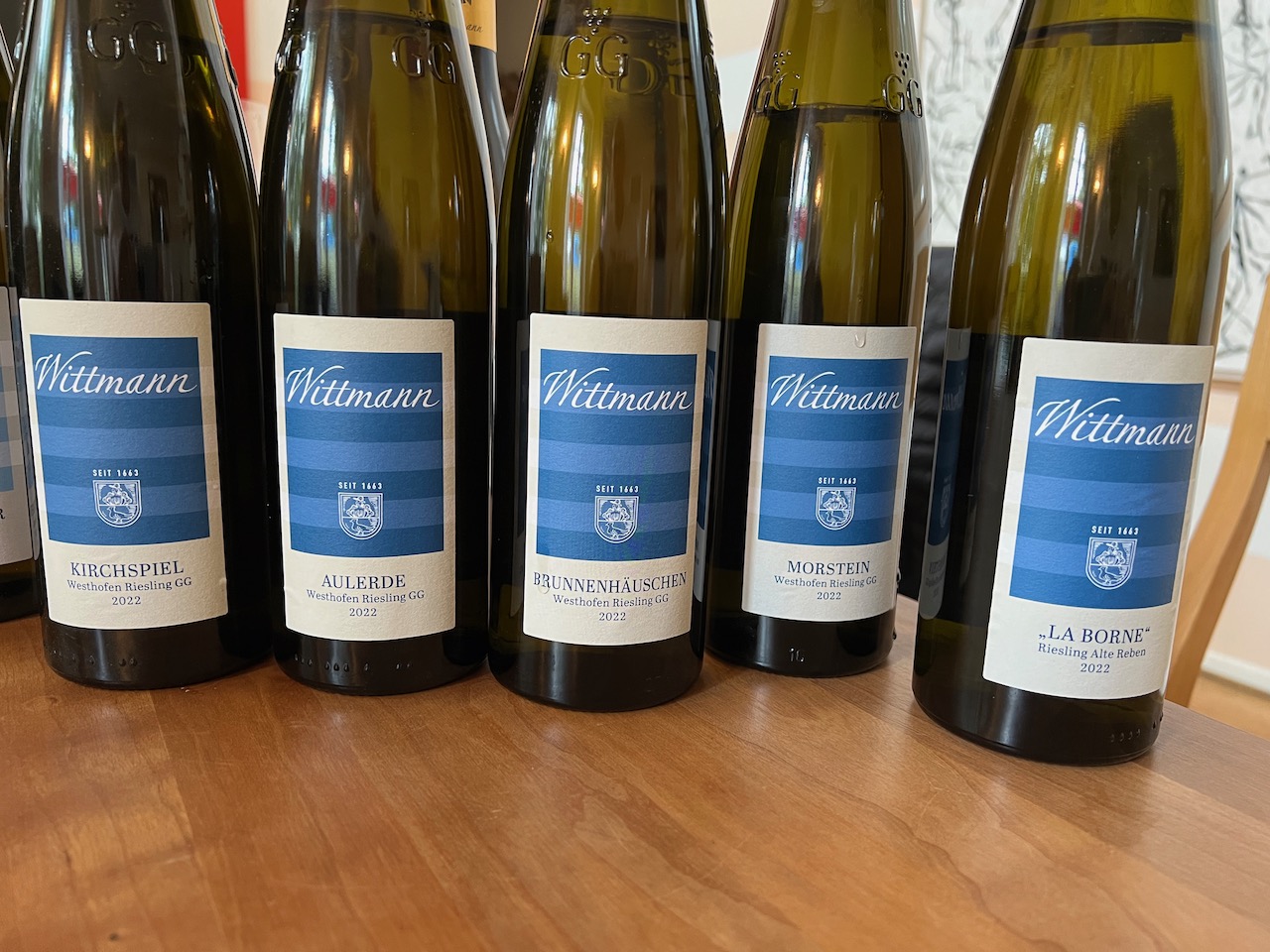 Gundersheimer 2022
Derzeit noch als Ortswein gefüllt, kommt aus der Lage Höllenbrand, langfristig könnte das ein GG werden. Die Lage liegt "links" neben dem Morstein auf Höhe wie das Brunnenhäuschen, also weit oben. Kühl und windig ist es hier und der Weinberg wird deshalb nach dem Morstein gelesen.
kräutrig, leicht vegetabil, wenig Frucht (Anklänge an Guave), hefig in der Nase. Am Gaumen frisch mit mittlerem Körper, öffnet sich immer mehr mit Luft und zeigt neue Facetten, bleibt super stabil 92-93+
Westhofener 2022
Nase noch verschlossen mit Gäraromen, straffe Säure, im Abgang kürzer als der Gundersheimer 90
Niersteiner 2022
aus der Ölberg und Orbel Parzelle am roten Hang, anderes Mundgefühl, leicht reifere Stilistik, jetzt schon zugänglich 91-92
Aulerde 2022
Die Reben wurden 1949 gepflanzt, stahlt richtig in der Nase und wirkt sehr vital, weisser Pfirsich, Blüten, am Gaumen mit gutem Druck und bestens integrierter Säure 94
Kirchspiel 2022
Keine Abendsonne, felsiger Untergrund, in der Nähe würzige Aromen von Kurkuma (Curry) und eher vegetabil, sehr straff am Gaumen, noch verschlossen 92+
Brunnenhäuschen 2022
Partielle Teile mit Terra Rossa Boden in der Lage, der zu dunkleren Noten im Wein führt, mit Luft zarte florale Noten in der Nase, cemiger am Gaumen , sehr lang am Gaumen 95-96
Morstein 2022
"kühle" Nase mit den vom Morstein gewohnten Zitrus Aromen, am Gaumen noch unruhig mit präsenter Säure 94+
La Bourne Versteigerung 2022
Sehr stimmig und dicht am Gaumen mit zum Schluss zupackender Säure, Pfirsich, Sternfrucht, Anklänge an exotische Früchte im Hintergrund, sehr lang, großer Wein 97
Philipp Wittmann needs no introduction. His dry Rieslings are now world-famous and convincing even in difficult years.
Much has been written about the dry and warm year of 2022, after the cool-climatic 2021 again a "climate change" year. A good analysis can be found, for example, in the GG special issue of Weinwisser. I was all the more curious to get my own impression of this Riesling vintage 2022 in Rheinhessen.
At the end of October, the time had come and I had an appointment with Philipp Wittmann at his vineyard on a Monday at 9 am.
To say it right away, I was impressed. What a strong collection! You always read that Riesling can show its terroir, but here it really does. Real Champions League.
Here are my tasting notes
Gundersheimer 2022
Currently still bottled as a local wine, comes from the Höllenbrand vineyard, which could become a GG in the long term. The site is located "left" of the Morstein, at the same height as the Brunnenhäuschen, i.e. high up. It is cool and windy here and the vineyard is therefore harvested after the Morstein.
Herbal, slightly vegetal, little fruit (hints of guava), yeasty on the nose. Fresh on the palate with medium body, opens up more and more with air and shows new facets, remains super stable 92-93+.
Westhofener 2022
Nose still closed with fermentation aromas, tight acidity, shorter finish than the Gundersheimer 90
Niersteiner 2022
From the Ölberg and Orbel parcel on the red slope, different mouthfeel, slightly riper style, already accessible now 91-92
Aulerde 2022
The vines were planted in 1949, really shines on the nose and seems very vital, white peach, blossoms, on the palate with good pressure and well-integrated acidity 94
Kirchspiel 2022
No evening sun, rocky subsoil, spicy aromas of turmeric (curry) and rather vegetal in the vicinity, very tight on the palate, still closed 92+.
Brunnenhäuschen 2022
Partial parts with terra rossa soil in the site leading to darker notes in the wine, with air delicate floral notes on the nose, cemier on the palate , very long on the palate 95-96
Morstein 2022
"cool" nose with the usual citrus aromas of Morstein, still restless on the palate with present acidity 94+
La Bourne Auction 2022
Very coherent and dense on the palate with gripping acidity at the end, peach, star fruit, hints of exotic fruits in the background, very long, great wine 97